100% GOLF Press Kit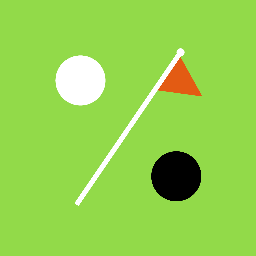 FACT SHEET
DESCRIPTION
Let's play some golf!
100% GOLF is golf, but you only have 100 percentage points of power to get it to the hole!
TRAILER

FEATURES

Endless courses to putt your way through!
3 designed courses to master!
Fresh spin of the Par system
ABOUT ME
I'm a games developer based out of Cambridge, I've been building games for around a decade. I learnt how to code teaching kids Stencyl in upstate New York then decided to make my own games.
Along with designing games, I also create weird custom controllers. These are usually made with cardboard, foil, lots of crocodile clips and kitchen sponges. Several have been built into proper installations, for example; boxing puppets, Morse Code switchboards and recently a surgical table with a syringe controller!
CREDITS

Game, Audio and Design: Alex Johansson

HD Icon: Katy Marshall
Download
Download
100% GOLF Press Folder.zip
154 kB